CHATEAU MONTBRUN, French medieval Luxury Castle property for sale
French Chateau for sale in mint condition with 500 acres
french castle of montbrun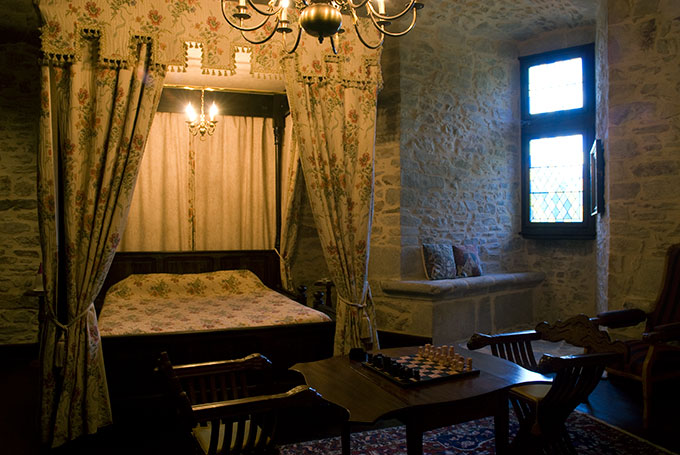 montbrun castle guest bedroom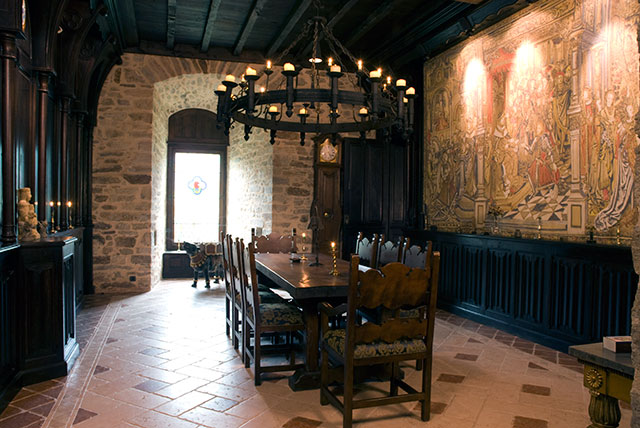 castle small diningroom
castle main diningroom
castle master bathroom
montbrun castle in france for sale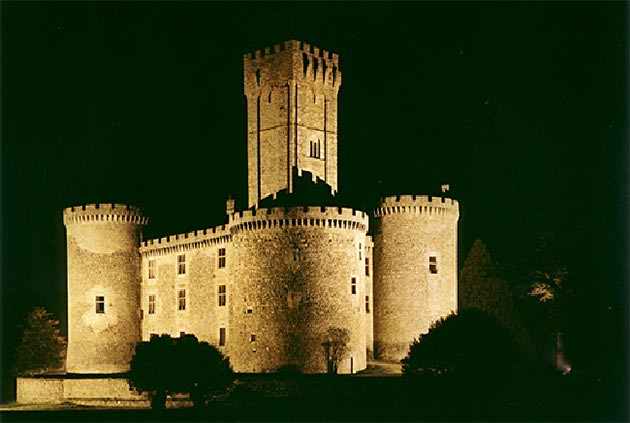 montbrun castle by night
This Castle for sale in France comes fully decorated and furnished, situated in the green heart of France, surrounded by peaceful lakes and oak and chestnut forest, 4 hours away from Paris, near Limoges, Bordeaux and the Dordogne.
Renovated to the highest standards having all modern comforts whilst retaining the style of a medieval Chateau.
The Château is enormous, luxurious and breathtaking.
The grand Great Knight's Hall seats 100 people,
there is a professional kitchen, a breakfast room, 2 dining rooms, smoking room, guest lounges, a library, a music room, a private cinema in a vaulted tower room, a billiard room, a chapel, a congress room, an office room, a Jacuzzi, a sauna, servant rooms, and a concert hall. 17 bedrooms, each with toilet and bath or shower room.
2 Lifts, central (floor) heating, private internal telephone system, computer facilities, DSL, satellite services, game center, etc.
The medieval Castle of Montbrun, Dournazac, Haute-Vienne, France.
Luxury Castle property for sale.
Château de Montbrun, of about 3500 sq.m is fully renovated to the highest standards, furnished and decorated with period rooms,
and fireplaces.
Complete Central Heating Throughout, Caretaker house, outbuildings, stables, dovecot, Boutique, working Bar Restaurant
with full licence included.
The castle is steeped in History, King Richard the Lionheart - died here and his entrails are buried here in the Grounds,
and in more recent times Madame Pompadour and General / President de Gaulle have been House guests.
Ideally located for Exploring The Limousin, Dordogne, Bordeaux, Charente and the Lot.
Perfect for persons wanting total privacy with the maximum of comfort and luxury.
40 Min. LIMOGES and International Airport (5 minutes by helicopter), 4 hour PARIS, 6 hour CALAIS and TUNNEL.
The castle is privately owned and it has been a protected monument historique listed by the
French Ministry of Culture since 1946.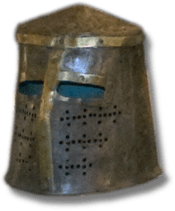 Concept and Design - A.G.I. ( )

Photos - Andreas Caraisco (
website
)
The Castle of Montbrun, Dournazac, Haute-Vienne, France.
Luxury Castle property for sale. ( )