CHATEAU MONTBRUN, French Medieval Castle for sale
Exceptional French medieval Chateau for sale
french castle of montbrun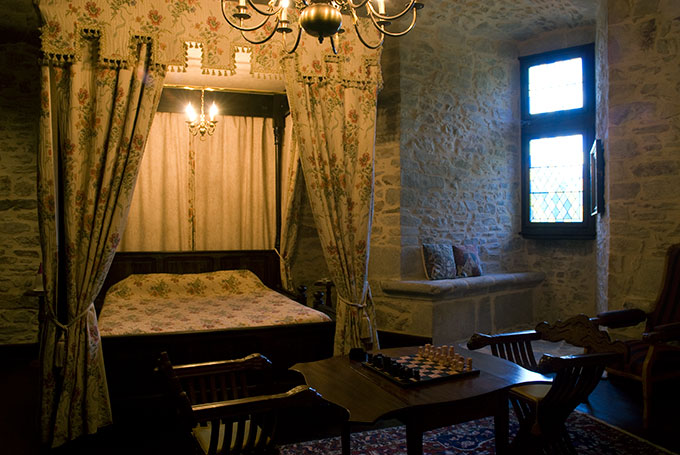 montbrun castle guest bedroom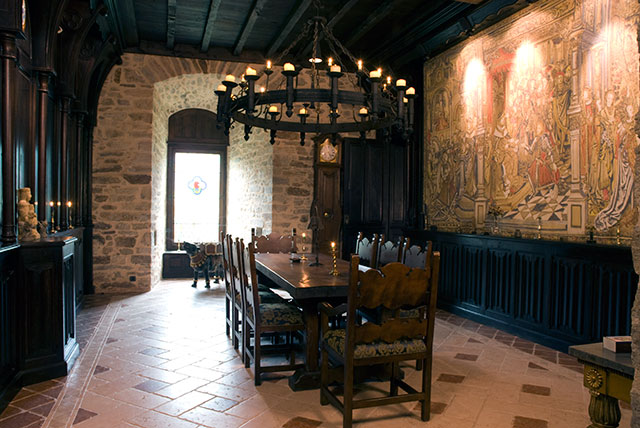 castle small diningroom
castle main diningroom
castle master bathroom
montbrun castle in france for sale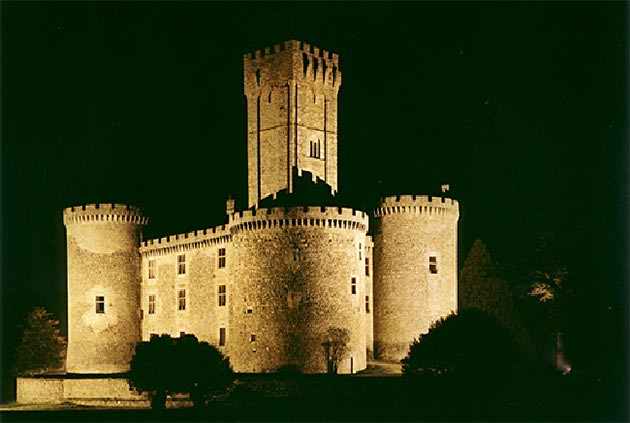 montbrun castle by night
Situated in the heart of the regional parc of the Périgord and Limousin, about 40 km from Limoges, a fantastic and unique Castle property for sale with: A Chateau full of history, Richard the Lionheart died here and his intestines are buried here in the Grounds. A tavern with a full licence with a large barn - Lots of buildings surrounding a courtyard with the keepers house, a large appartment, a shop, a large barn and parking - Two detached houses - A house to convert with a barn used as offices - Another house with a barn -A large barn in an L shape. The land of 198 ha. has 5 lakes, half of which is woodland and the other half is an eight hole miedeval golf course, and the parc surrounding the Chateau. The Chateau with in total about 30 rooms has an elevator in the donjon, and many spiral staircases, and has been restored in the spirit of the "Chevaliers" but with all the modern confort.
The medieval Castle of Montbrun, Dournazac, Haute-Vienne, France.
Luxury Castle property for sale.
Château de Montbrun, of about 3500 sq.m is fully renovated to the highest standards, furnished and decorated with period rooms,
and fireplaces.
Complete Central Heating Throughout, Caretaker house, outbuildings, stables, dovecot, Boutique, working Bar Restaurant
with full licence included.
The castle is steeped in History, King Richard the Lionheart - died here and his entrails are buried here in the Grounds,
and in more recent times Madame Pompadour and General / President de Gaulle have been House guests.
Ideally located for Exploring The Limousin, Dordogne, Bordeaux, Charente and the Lot.
Perfect for persons wanting total privacy with the maximum of comfort and luxury.
40 Min. LIMOGES and International Airport (5 minutes by helicopter), 4 hour PARIS, 6 hour CALAIS and TUNNEL.
The castle is privately owned and it has been a protected monument historique listed by the
French Ministry of Culture since 1946.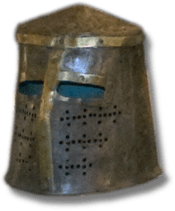 Concept and Design - A.G.I. ( )

Photos - Andreas Caraisco (
website
)
The Castle of Montbrun, Dournazac, Haute-Vienne, France.
Luxury Castle property for sale. ( )